Voicing It! Video Training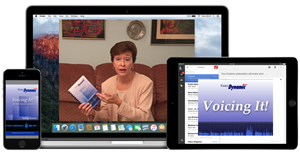 Whether in conversation, in the sales presentation, on the podium, or over the phone, with Voicing It!, people are discovering their 'real' voice -- a richer voice, a warmer voice, a voice that speaks volumes.  In my video, I take you through the entire course, step by step, just as if you were with me in my studio.  I show you not only how to do it, but how not to do it.....I want you to get this right!  As an added bonus, I've included the 5 Secrets to becoming a more dynamic, a more confident speaker.
There are a lot of wonderful speaking voices out there; and, most of those voices have had training.  Once you find your optimum speaking voice, you may discover a voice like that of James Earl Jones, Kathleen Turner, George Clooney, Angelina Jolie, Sam Elliott, or Julia Ormond.
Voicing It features 5 one-hour sessions.
Voicing It! is also available on DVD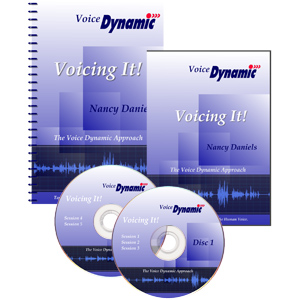 Buy Today For Just $297.00
To Order by Phone - Call 856-627-6040
or Buy Securely Online


Christina's Story
I am a teacher in my 40's and my biggest problem was that my voice would shake from time to time, but especially when speaking in front of several people. And every month, my job requires me to speak in front of a new group of about 15 to 20 people, and in order to get through it without a shaky voice, I would actually have to take Xanax. 
Long story short, I used your, "Voicing It," program, and an incredible thing happened! My voice became much stronger and, even though I might be a little nervous speaking to crowds, my voice no longer shakes!!  I'm able to deliver my message in a strong, confident voice!
This was truly the best money I ever spent to help correct my nervous voice!! Thank you SO much for helping me!!!!! It truly changed my life!!!
Email me or phone me to arrange a date to begin.
2-Day Workshops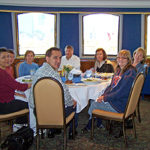 Whether you are required to make presentations in your job or you would like to become a professional speaker, Nancy will show you her 5 Secrets to becoming a powerful, dynamic presenter. And while many other courses dealing with presentation skills and public speaking provide good information and training, they do not know how to help you find your 'real' voice. One of the greatest benefits of The Voice Dynamic Approach is that you will begin the course with your 'old' voice and have lunch with your 'new' one!
While covering all aspects of my voice improvement training, we will also work on the Informative/Persuasive Presentation, the Impromptu Presentation, and the Personal Introduction.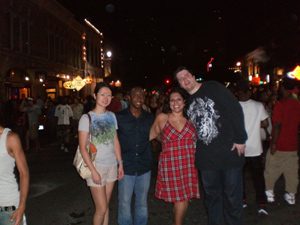 If nervousness is a problem, you are going to learn the best means for controlling those nervous jitters, allowing them to work for you, not against you. Nervousness is wonderful...it's that extra spurt of adrenaline that can truly give you the edge!
Workshops are held on a Friday/Saturday or Saturday/Sunday format and run from 9 am to 4 pm on both days. We limit the group size to 6 because of the personalized attention you will receive. Throughout the training, you are digitally video-recorded which includes our special 'before' & 'after' comparisons. 5 weeks after completion of the course, you will receive a downloadable mp4 copy of your own video material. Lunch is provided on both days.
2023 Schedule
All Sessions Run from 9 am to 4 pm
Price $995
March 24 & 25, 2023
Mt Laurel,  NJ
Double Tree Suites
by Hilton
505 Fellowship Rd N
Mt Laurel, NJ
856-778-8999